The following dolls are available for you to dress yourself. I try to keep some in stock but I may have to make them to order. I make batches of porcelain quite frequently so, if they are not in stock I can get them made for you quite quickly.
See bottom of page for hair, dollstands and body materials.
Contact Us
All-Porcelain Undressed Dolls
All-Porcelain dolls are supplied assembled as shown.
All are jointed at the hips and shoulders and have swivel heads.
They can be suppled with painted or unpainted feet.
Doll Kits are supplied with half-arms and half-legs.
***** You can choose the arms and legs from the selection shown. *****
Full instructions and pattern for body included.
Fixed or swivel heads are indicated.
Painted hair can be covered with viscose hair if preferred.
Viscose Doll Hair available in the
following colours:
White, Soft Blonde,
Dark Blonde, Flax,
Light Auburn, Chestnut,
Strawberry Blonde,
Brown, Mousey,
Light Grey, Med.Grey,
Dark Grey, Black

85p per pack
(pack will make approx.
3 doll wigs)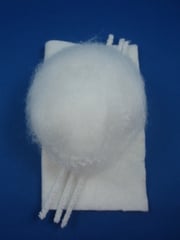 Felt, pipecleaners & stuffing
for one doll kit.

50p per pack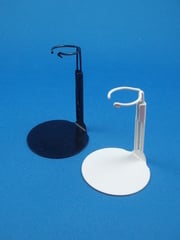 Adjustable height -
suitable for older children
& adult dolls.

£2.75 each